Curators Pick: Gaskin brooch
This month Victoria Osborne, Curator of Fine Art at Birmingham Museums, picks her favourite item from our  Birmingham collection.
Birmingham is world-famous as a centre for jewellery designing and making, and this lovely brooch celebrates two pioneering jewellers who worked in the city a century ago. Husband-and-wife designers Arthur and Georgie Gaskin were leading figures in the Birmingham Arts and Crafts movement at the turn of the last century. The two were a creative partnership as well as a love match: Georgie specialised in design and Arthur in enamel, and the couple made their jewellery together, working with their assistants. Their intricate pendants and brooches were usually made in silver and featured wirework, enamelling and glowing semi-precious stones in muted colours. Often their designs took inspiration from the natural world, featuring delicate flowers, leaves and birds.
Arthur Gaskin met fellow artist Georgie Evelyn Cave France at Birmingham School of Art, and they married in 1894. Arthur had been an outstanding student at the School, who had enrolled in 1883 and been offered a post of assistant master two years later, before he had even finished his course.  His friend the painter Joseph Southall described him as 'by far the most inspiring teacher' the School had had.  Georgie began her career as an illustrator, specialising in charming images for children's books, but after 1899 she concentrated on jewellery design and making. Arthur would go on to become head master of the Birmingham School of Jewellery and Silversmithing in 1903 and remained there until his retirement in 1924, inspiring hundreds of young designers and makers in the city. 
This exclusive brooch is based on one of the most exquisite objects in Birmingham's Arts and Crafts collection: a tiny plaque made by Arthur and decorated with a delicately-painted portrait of Georgie. The original plaque is an exquisite example of Arthur's work in enamel, which included commissions for churches as well as small jewel-like portraits. The image of Georgie in Birmingham's plaque was based on a painting made by him some 15 years before, which is also in Birmingham's collection. The painting was inspired by 15th-century Italian portraits and shows Georgie wearing Renaissance-style costume, with an embroidered bodice and full brocade sleeves.  Arthur gave the painting the Italian title 'Fiammetta', or 'Little Flame', a reference to Georgie's vibrant red hair, which in the enamel version is touched with gold. Celebrating two of Birmingham's most original and creative artists, this brooch captures the delicate lines and vibrant colour of the enamel and would add a very special touch to any outfit.
Photograph by Daniel Graves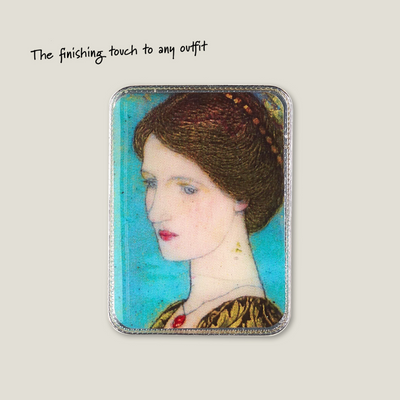 'Fiammetta' Georgie Gaskin Brooch
£20.00
Our 'Fiammetta' Georgie Gaskin Brooch is an exquisite item you won't find anywhere else. This striking design is influenced by Birmingham's very own Arthur Gaskin, and his tempera painting of his wife and fellow artist, Georgie. "Fiammetta" means "little flame," and refers to Georgie's fiery red hair. Originally enamelled on copper and framed with silver wire, our brooch retains these finishes in its design, making it the perfect gift for lovers of Pre-Raphaelite art and adding a unique flourish to any lapel.