Inspired by Aston Hall's Famous Long Gallery...
To celebrate Aston Hall's 400th Birthday, Birmingham Museums Trust has commissioned a unique new product. The traditional umbrella has been inspired by Aston Hall's famous Long Gallery. Details of the intricate flowing strap-work, on the ceiling of the Long Gallery, feature on the inside of the umbrella, so rainy days will be beautiful from now on…
Aston Hall is one of Birmingham's hidden gems, which can be found in Aston Park. This magnificent Grade I Listed Jacobean mansion stands substantially unchanged. The Hall was one of the last great Jacobean houses to be built in England, and its history and architecture make it a nationally important heritage attraction. Built for Sir Thomas Holte, as a home, to display his hard earned wealth and newly purchased title of baronet, an aggressive assertion of social status and grandiose prosperity are visible throughout. 
Stately Jacobean manors were intricately decorated to display wealth and status. Intricate plasterwork was expensive and required skilled artisans. The plasterwork was often picked out in brilliant colours, giving rooms light and vibrancy. Aston Hall has numerous examples of exquisite plasterwork throughout the public rooms, as they formed an excellent way for Sir Thomas to impress his guests.
The ornate geometric rib moulded plasterwork, on the Long Gallery ceiling is one of the many original features of Aston Hall. Having been lovingly restored to its former grandeur, this magnificent room leaves visitors with a lasting impression, and this would have been the designer, John Thorpe's exact intention. After visiting the Hall in 1793, John Byng commented:
My eternal delight, the long gallery, the glory of every old house, which we now never make part of a new building – altho' the finest sitting room in summer, and the finest walking room in winter."
The Long Gallery runs across the width of this Grand Old Mansion to demonstrate the building's impressive size, and is one of the least altered rooms within Aston Hall. The space, an essential part of any Jacobean house was used for numerous leisure activities during periods of bad weather, including; walking, games, and swordsmanship practice. Affluent members of society could show off their fine clothing in a dry space.
It was whilst walking down the Long Gallery one day, when rain was lashing down outside, that the idea was born for this beautiful umbrella. What a charming piece of irony! The original historical purpose of a long gallery was to keep fine clothes preserved, whilst taking a walk on a dreary day. Now you can purchase your very own piece of history, take it with you wherever you go, and stay dry in style….. just like the Jacobeans!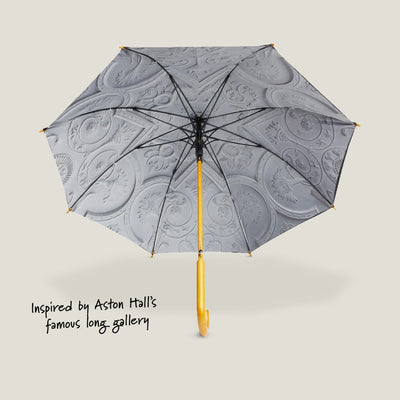 Aston Hall Umbrella
This one-of-a-kind umbrella was designed to celebrate 400 years of the renowned Aston Hall, taking inspiration from its impressive Long Gallery. Stay dry and stylish whilst taking a walk on a rainy day.
Look up and you'll see the intricate plasterwork from the Long Gallery's ceiling on the grey underside, contrasting with the bright, high-quality wooden handle. With an umbrella this eye-catching, we understand if you're hoping for rain.