Meet local maker Stacey Barnfield
Stacey Barnfield  is the founder of Draw My City – an online art gallery set-up to support local charities through donations from print sales. Stacey's love of drawing and the city ....
What first fuelled your passion to make / create your designs / product? 
I've always enjoyed drawing, painting and playing with typography and the artworks available through Draw My City are an unplanned by-product of the first coronavirus lockdown when, like many others, I had a lot more spare time to indulge in hobbies and pastimes. I shared daily sketches of well-known Birmingham buildings through social media and people replied by saying they would buy prints of the drawings if I made them available. Draw My City was born!
Tell us about the origins of your business
I've grown to admire and respect the work of SIFA Fireside, which tackles homelessness in Birmingham at its Digbeth drop-in centre and through expert ongoing support services. By volunteering at the centre, not only have I learned a lot more about the vital services it provides but also its ongoing need for new fundraising ideas. I set up Draw My City with the intention of donating to the charity a set amount from every artwork order placed and, since June 2020, we're raised over £2,000, which is wonderful. I appreciate every single order I receive – it means so much.
What's your motto? 
Can I borrow Birmingham's 'Forward' for this? I love spotting it on the city's coat of arms when out and about and would like to see the city to use it more often to stoke a bit of civic pride.
How would you describe your designs / products?
Varied in media, but with Birmingham at their heart. Almost all my artworks and commissions feature the city in some shape or form. The sense of nostalgia and attachment to places once enjoyed but sadly no longer there seems to prove really popular. That's how the Birmingham Colour Palette came about – I was browsing pictures of old Birmingham buses (as you do!) and the cream and blue livery stood out as a consistent theme. I began thinking that, without realising it, the city has over the years used a selection of colours that people warmly identify with.
What was the first success / landmark moment for your designs / product range?
A drawing of the old Snobs nightclub – a legendary venue where I spent a large part of my formative years and pay packets! The drawing proved really popular when I first shared it through social media and still does to this day.
Tell us about your materials – where do you source your materials from?
For my drawings I use watercolour paints and pencils, fine-liner graphic pens, good quality pencils and thick watercolour paper. All available from all good retailers, but I'll always find an excuse to pop in to Cass Art on Corporation Street.
Tell us about your making process?
I work from an image found online or somewhere that I've photographed. I'll do a light-touch draft of the building shape in pencil, then ink pen, followed by watercolour paints and additional ink pen for finishing touches.
Have you ever had any interesting commissions?
I love commissions because they mean so much to the people who ask me to draw them. I've been asked to draw beloved family homes, wedding venues, football grounds, canal boats and a vintage Brummie bus - the Number 14 in Tile Cross!
Do you have a favourite of the Birmingham museums? If so, why?
When I was a teenager I was fascinated by a painting by Birmingham photorealist artist John Salt called White Chevy, Red Trailer. It used to hang at Birmingham Museum & Art Gallery but now tours the world for others to enjoy. I was captivated by its realism and couldn't believe it was actually painted. At first glance you would think you were looking at a photograph. I was fortunate to meet John Salt at Ikon Gallery a few years ago and I now have a reproduction print of White Chevy, Red Trailer above my desk in my office. I love it so much.
And finally, a tourist arrives in Birmingham for the first time ever, where do you take them?
Good question! So many great places. It would have to involve a canal-side walk, a selfie on one of the Library of Birmingham terraces, gift shopping in Great Western Arcade, coffee at Java Roastery or Damascena topped off with a bite to eat at the Edwardian Tea Rooms at Birmingham Museum & Art Gallery.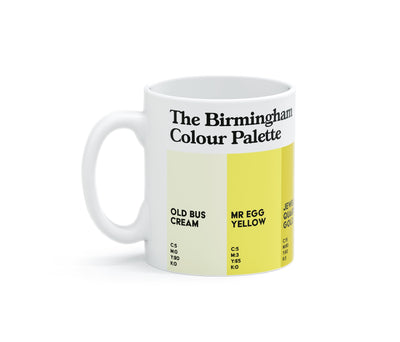 The Birmingham Colour Palette Mug
£12.50
Birmingham's very own colour palette was created by talented artist, Stacey Barnfield to celebrate our extraordinary city. This earthenware mug showcases Stacey's original colour palette which pays homage to the city's heritage.
If you want to purchase one of these stylish mugs be sure to purchase quickly as this is a limited edition item!