Our Book of the Month: Things To Do & Places To See In Birmingham & the West Midlands
For June, Buyers Administration Assistant Gemma Peters chooses the book perfect for finding days out.
Things to Do & Places to See in Birmingham & the West Midlands is the perfect guide to the incredible arts, heritage and culture this region has to offer, along with the beautiful green spaces and opportunities for adventure. As the country begins to ease itself out of lockdown, the guide is packed full of inspiration for your next day out, whatever the weather. Perfect for locals and visitors to the area alike - you will find something for all ages and interests. 
Living in neighbouring Staffordshire, the guide has really highlighted some of the amazing opportunities to get out with the kids whatever the weather and explore what is just beyond our doorstep. From stunning  National Nature Reserves (did you know the West Midlands had 3!) and world-class museums and historic properties showcasing the regions vast and fascinating history, to show stopping productions at one of the many world renowned theatres in the region or the incredible artwork on display at the many art galleries, the West Midlands really does have a wealth of hidden gems. 
Divided by district and venue type, the guide is easy to use, with each listing containing a web address to check the latest information and opening times. There is a handy key to highlight accessibility features, family friendly venues and sites that have dog friendly areas. There are also wish list pages at the back of the guide for you to write down all the venues you plan to visit - ours is already filling up with a school holiday bucket list!  
So go and explore the West Midlands, support the amazing local culture and have an unforgettable day out - Things to Do & Places to See in Birmingham & the West Midlands has all the inspiration you'll need.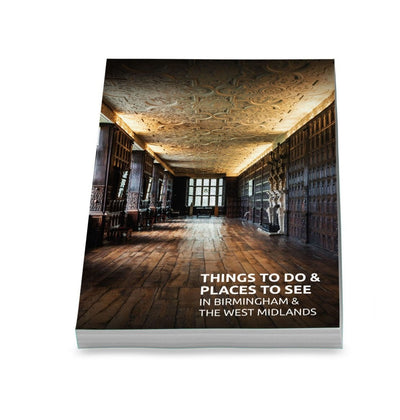 Things To Do & Places To See In Birmingham & The West Midlands
£9.99
Things To Do & Places To See In Birmingham & The West Midlands by Birmingham Museums Trust
The West Midlands county is home to an extraordinary number of places to see and activities to enjoy. From world class museums and record-breaking theatres to national nature reserves and award-winning gardens, no matter the weather this comprehensive guide will provide all the inspiration you need for a day out to remember. 
This guide covers the West Midlands county which consists of the City of Birmingham, the City of Coventry and the City of Wolverhampton, as well as the boroughs of Dudley, Sandwell, Solihull and Walsall.
If you're looking for a free day out, a fully accessible venue or the perfect place to visit with kids you'll have all the information you need at your fingertips.
We know you'll enjoy discovering this welcoming county full of eclectic attractions and unique experiences.
With thanks to HSBC UK for supporting the development of this book.