Our Book of the Month: Walk Birmingham
For May, Commercial Director Alex Nicholson-Evans chooses the perfect read for National Walking Month. 
Walk Birmingham has a very special place in my heart, I was one of the team of people who tested out all 20 of the fantastic walks featured in this pocket-sized guide. It was this book that introduced me to the breadth of beautiful walks and fascinating history that lay just beyond my doorstep.
Testing the walks was the beginning of my discovery of Birmingham's stunning green spaces. When I first moved to the city, I had no idea that Birmingham was one of the UK's greenest cities, now it's something I'm incredibly proud of and it was Walk Birmingham that really started to open my eyes.
This book introduced me to places like New Hall Valley Country Park and Grove Park. It has helped me discover some fantastic new routes around one of my favourite parks too, Sutton Park.
The walks in the guide are a variety of lengths and take you all around this mighty city; from Sutton Coldfield to Longbridge and from Harborne to Sheldon. Every walk taught me something new about the city's heritage and I've certainly discovered places I might not have thought to visit otherwise.
I'm of course wildly biased but I would recommend this book without hesitation. A truly fantastic way to discover or rediscover the city.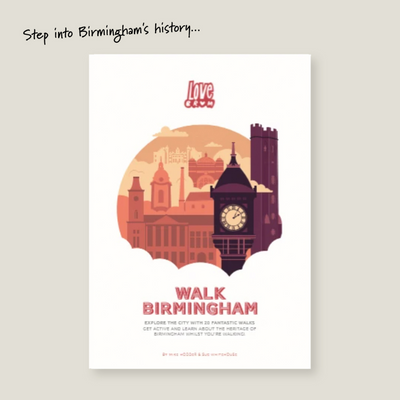 Walk Birmingham
Walk Birmingham by Mike Hodder and Sue Whitehouse
For a journey through time, there's nothing quite like Walk Birmingham. This book brings together 20 inspiring walks around the mighty city of Birmingham, from Sutton Coldfield to Longbridge and Harborne to Sheldon, giving you a chance to experience its history for yourself. It's the perfect gift for lovers of long walks and local heritage.