Our Product of the Month: Thinktank Top Trumps
This month Laurence Butler, Museum Manager at Thinktank picks his favourite item from our collection.
I've been a big fan of Top Trumps ever since I was young.  It was a firm family favourite – great to take on holiday and play on those long 'are we there yet?' journeys. 

As Museum Manager of Thinktank Birmingham Science Museum I often get asked what's the most popular item in the museum, what's the most impressive, what's the oldest and once, what's the smelliest! 

Our special Thinktank Top Trumps is a brilliant addition to the Top Trumps family. It brings together some of Thinktank's amazing museum objects so kids and families can learn heaps more amazing facts and stats either before, during or long after their visit to the museum.

There are 30 cards in this special edition, each featuring a fascinating Thinktank Science museum object, such as the City of Birmingham Steam Engine, the Thinktank Ichthyosaur and the world land speed record-breaking Railton car. The categories are both educational and fun allowing you to compete for the oldest, the biggest and my favourite, the Brummie Factor!

Our Thinktank Top Trumps is also a great addition when visiting the museum – kids love hunting down the objects as they explore the galleries, and we often see families having an impromptu game over a slice of cake in our café! 

At Thinktank we believe that learning and fun go hand in hand and our Thinktank Top Trumps supports that 100%.  Highlighting the museum's objects through facts and stats can assist with numeracy, it helps builds knowledge, aids memory, enhances reading skills and ultimately encourages fun, social and interactive play. A winner all round!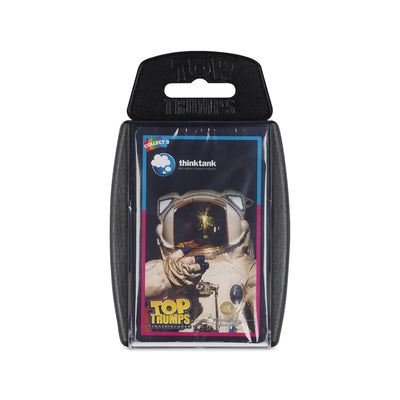 Thinktank Top Trumps
Entertain the whole family with this exclusive pack of Thinktank Top Trumps. Compare rankings of objects in our collection, trump your partner and win by collecting the most cards. A fun game that will introduce you to 30 fascinating objects on display at Thinktank.